The Gleaner
The future of The Gleaner
le vendredi 30 novembre 2018
Modifié à 10 h 51 min le 30 novembre 2018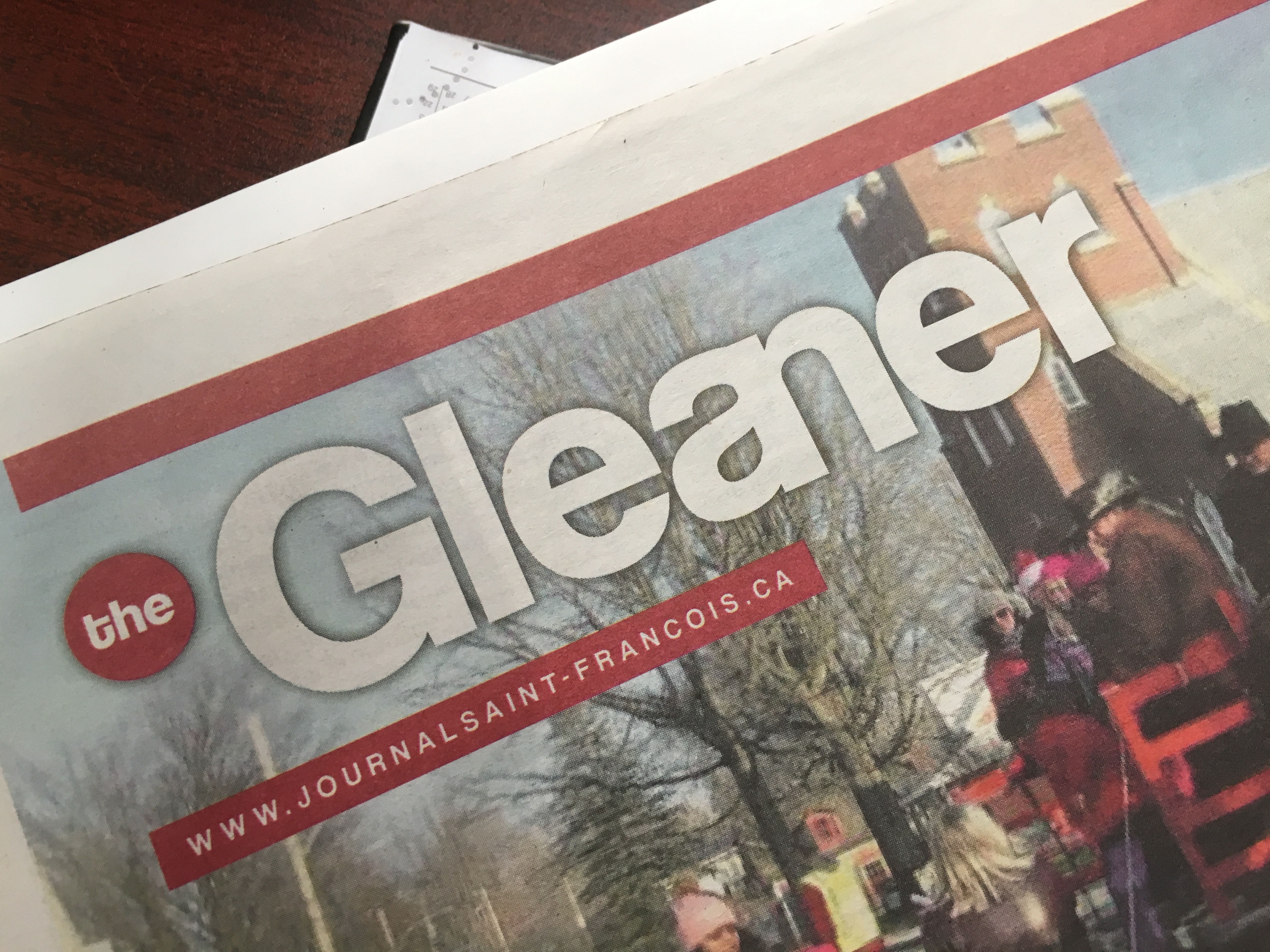 There is one word that best describes The Gleaner: resilient. In the last decade our community newspaper has changed hands four times, owned by two of the largest media conglomerates in the country before being bought along with the Journal le Saint-François by Gravité Média. With each new owner we held our collective breath, certain this spelt the end for the paper. Each time The Gleaner persevered, in large part due to the exceptional support of the Chateauguay Valley community.
Now we find ourselves again facing change. It may come as a bit of shock that next week's edition will mark the last published by Gravité Média, and quite possibly the last printed edition of
The Gleaner
for a time. But, with all sad news comes a silver lining, and in this case it may be golden. Gravité Média has chosen to return ownership of
The Gleaner
and all affiliated rights to the community, with no catch, and without expectation of any payment. It is a truly generous offer. One might even congratulate Gravité Média for doing the right thing in an age where
The Gleaner
could so easily have been discarded without a second thought. And so, we now have an opportunity within our reach to take back our paper and restore its value to this community. Over 50 individuals have already voiced their concern about the future of
The Gleaner
. During a meeting held November 20, a group including former and current
Gleaner
voices as well as several key members of the English-speaking community was formed under the guidance of Qu'anglo Communications and Consulting to create a non-profit organization that will attempt to negotiate with Gravité Média for the rights to
The Gleaner
. We will work hard to meet the monumental task of rebuilding
The Gleaner
, but we will need your support in this effort and we will need your help. We live in a day and age when we are likely to hear news from across the globe before we hear it from next door. With the transformation of traditional news outlets, we must then consider: Where do we look to find a sense of community? How do we know what is happening in our area? Where do we go to find out what to celebrate and what to mourn? As
The Gleaner
looks forward to what it will become, what is abundantly clear is how many people care deeply about maintaining, and perhaps recreating, a voice that truly speaks to this community. As the paper undergoes transition, there is an opportunity for the voice of
The Gleaner
to more succinctly represent the community interests of multiple generations. As such, the committee in charge of steering the paper's new direction will look to
Gleaner
staff old and new and to the Chateauguay Valley. We urge you, the community, to speak up in the form of suggestions directed to
rennie.sarah@gmail.com
,
emilysouthwood@gmail.com
and
https://www.itsmytown.ca/contact-us
/. What does your community newspaper look like? What stories do you want told? We'll be listening. We the current
Gleaner
writers have felt privileged to share the stories of so many passionate people, engaged in remarkable pursuits, and look forward to working with the community as we write the next chapter. Look to
https://www.itsmytown.ca
for continued local news from
The Gleaner
team during the paper's transition.